The senior engineers at GEA all have many years of varied experience in ground engineering. That experience can affect outcomes in ways that are obvious, but also in other ways that might be less apparent.
Here we focus on two members of our team, Technical Director Martin Cooper and Principal Geotechnical Engineer Matthew Penfold, and explore some of the ways in which their experience on site has made a difference to a couple of recent projects.
Supervising basement construction works for The London School of Hygiene and Tropical Medicine
This project involved demolition of an old depot, to make way for a new four-storey laboratory building. At one point, a buried fuel tank had been removed with limited paperwork available, so there was a contamination concern to address, as well as the ground investigation inherent in construction.
Also, the new building features a basement, and basement development in most London boroughs - including Camden, as in this case - triggers detailed guidance that must be followed precisely if planning permission is to be achieved. For more information on that topic, click here.
"We're essentially specialists when it comes to London and Basement Impact Assessments, having done so many of them," comments Martin. "That's true of myself and Matthew personally, as well as GEA as a whole. Every borough has its own guidelines, but after a while you get to know what they each want, not just in terms of the rules, but in practice - how much detail they expect, and so on."
For this particular site, Camden required basement construction works to be supervised by a suitably qualified Chartered Engineer to ensure compliance with the design. Fortunately, Martin - a Chartered Civil Engineer - worked for leading piling contractor Cementation Skanska for many years, so Camden and main contractor 8build were very happy for him to take on this supervisory role in addition to overseeing the ground investigation.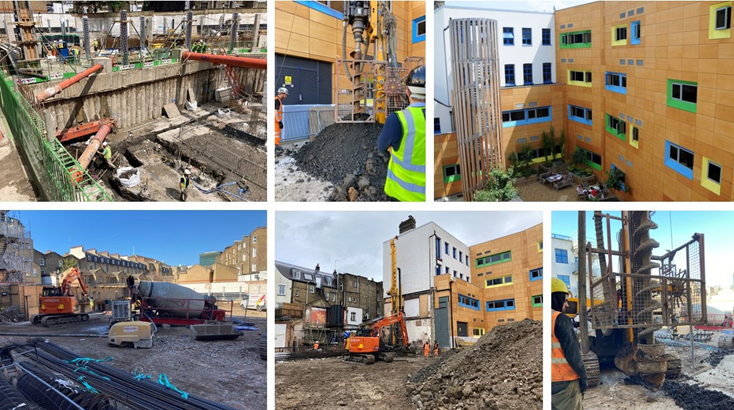 GEA and Cementation Skanska – a longstanding reciprocal relationship
In fact, Matthew also has a connection with Cementation Skanska, as do other members of the GEA team. The specialist piling and ground engineering subcontractor and GEA have a reciprocal arrangement where Cementation Skanska's graduate engineers are seconded to GEA for a four-month placement to gain experience with ground investigation. GEA engineers, including Matthew, have taken the opportunity to gain experience in the other role. Matthew and Martin were therefore both considered ideal for this additional supervisory role, with Martin taking the lead, and Chartered Geologist Matthew working alongside him.
This experience allowed GEA to advise from an early stage on various details relating to reinforcement requirements, and solve other issues that arose on site. At one point, secant piling walls - which are meant to interlock - had failed to do so, but Martin was able to confirm that a solution using additional concrete mix would achieve the required water-tightness.
Martin and Matthew were reviewing the monitoring of wall movements throughout the project. "At one point we did see more movement than predicted," explains Matthew, "but once we spotted it, 8build installed some additional propping and the issue was resolved."
Conducting ground investigation and overseeing piling works around Bath's historic hot springs
In the summer of 2020, Dominus Group were embarking on an ambitious plan to bring a 202-bedroom Hampton by Hilton hotel to the city of Bath, with McAleer & Rushe as main contractors. The partners turned to GEA, and Martin in particular, to take charge of the ground investigation.
A particular concern at this site was protection of the famous Bath springs, and compliance with the County of Avon Act which details the requirement to protect the natural thermal springs…from damage that could result from excavations, piling operations or boreholes.
"We had to make an application to advance the boreholes initially under the act," Martin explains. "It wasn't just a formality - there was enormous scrutiny, but you can absolutely understand their caution – the springs are a critical resource to Bath, and the water is at a pressure where it will generate a spout nine metres high if it were to be intersected."
To minimise the damage, should the spring waters be intersected, the team had to build a full pressure-containing wellhead, as used in oil prospecting. As if that wasn't challenge enough, all this was happening in the middle of the 2020 COVID lockdown, with distancing mandatory on site.
"All in all, the one deep borehole that we were permitted to drill ended up being maybe the trickiest one of my thirty years in the industry," comments Martin.
There was also a requirement from the local authority that all piling work be supervised by a Chartered Engineer with experience in piling. As with the London project, Martin's background made him ideal for this role. McAleer & Rushe also asked Martin to assist the client with the selection of the piling contractor, with Hill Piling ultimately being selected for the project and successfully completing the piling.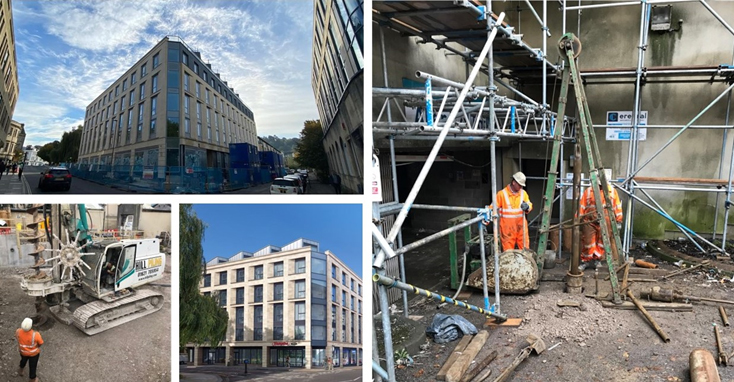 The benefits of a holistic perspective
As the examples above show, our experience of ground engineering goes well beyond simply providing an interpretive ground investigation report. This not only allows us to understand the consequences of the advice we give, but also to provide a complete ground engineering consultancy service to our clients.
Our continuing partnership with Cementation Skanska, and the broad experience of our engineering team, means that we understand from the inside out the needs and practicalities of the wider construction process of which our work is just one part.
GEA works with clients across the UK, and has offices in Hertfordshire, Nottinghamshire and Manchester. To get in touch with any of our centres, please see our contact page.